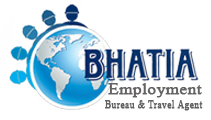 Contact Us: 22 615 925 / 22 618 963

Email: bebta@vsnl.com
Bhatia Employement is the best preferred agency when it comes to recrutiment. We strongly believe in commitment and responsibility towards our clients. We provide assistance for recruitment such as:

Advertisement Campaign through print media

Shortlisting candidates as per the requirement

Arrange interview venue for the employer

Arrange medical test for the candidates after selection

Complete immigration formalities

Arrange their deployment and co-ordinate with the company
Legal Procedure
Document required by Indian mission for recruitment of Indian personnel in group
Power of Attorney (In Duplicate)
Demand Letter
Specimen Work Agreement for each category of personnel
(In Duplicate)
Undertaking in case of skilled /semi-skilled workers
Company's contact details and brief history.(All the above documents need to be printed Company's/Employers Letterhead)
Permit from Indian Mission in country of Employment.
Scanned copy of Valid License (Registration Certificate) of the Indian Recruiting Agent.
Original Trade License/ C.R of Company in country of Employment and one photocopy thereof.(Original License returned after certification)
Permit / Approval from the Ministry of Labour / Naturalization and Residency Department / Free Zone Authority with English translation.
Photocopy of passport of authorized signatory of the company.
Legal Authorization of sponsor in case paper signed other than sponser.

Please note that only Authorized Signatory / PRO of the company who should come personally to the indian Mission in the country of Employment can get the Document Attested from the Indian Mission. No other Agent or Consultant of the company is allowed to sign papers on behalf of the Employer.

For detailed Specimen Document as per the above requirements of Indian Mission for Recruitment of Indian Personnel in Group, you may please contact us.

P S : It is advisable to have a M.O.U signed by the company (In the Country of employment and The Indian Recruiting Agent) for better understanding during the excution of the requirement.
©2016 Bhatia Employment Bureau. All Rights Reserved