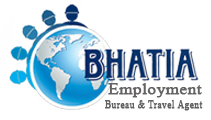 Contact Us: 22 615 925 / 22 618 963

Email: bebta@vsnl.com
Bhatia Employment have ample of job opportunities for you, which help you achieve the right job. We follow a geniune process to ensure that your search for right job is achieved. We Majorly have clients From the following countries: Gulf Countries North Africa Southeast Asia USA Europe
Blue Collar Jobs
Blue collar job are those which requires physical labor
We provide jobs for large number of labor class workers on contractual basis some of the designations for labor class are:


Carpenter
Ductman
Electrician
Industrial worker
Industrial Helper
Heavy Duty Driver
Light Duty Driver
Mason
Rigger
Plumber
Structural Worker
Welder
White Collar Jobs
White-collar work is performed in an office, cubicle, or other administrative work, also known as professional jobs. We also have requirement for professional jobs like:


Accountant
Doctor
Electrical Engineer
Mechanical Engineering
Software Engineer
Civil Engineer
IT Specialist
Clearical job
Admin job
Modes of Payment
For Service payment: Net banking, Demand Drafts,
Pay Order and Credit Card are accepted.
Our Greviance Procedure
If candidate faces any problem or have any query regarding recruitment, they may feel free
to contact our Recruiting officer by mail or personal visit.
or may even contact to Proprietor Mr M.L. BHATIA by mail or personal visit.
Contract Terms & Conditions
| 1.Period of Contract | 2 years |
| --- | --- |
| 2. Probation Period | 6 Months |
| 3. Daily Working Hours | 8 (eight) hours per day |
| 4. Weekly Rest Day | As per Country's Labour Law(Friday) |
| 5. Rate of Over time | As per Country's Labour Law |
| 6. Leave – Staff | Paid Leave 30 Days after complete 2 years of service. |
| 7. Passage | Working Country-Mumbai-Working Country Ticket provided by Employer after completion of 2 years work. |
| 8. Accommodation | Provided by the Company |
| 9. Medical | Provided by the Company |
| 10. Transportation | Provided by the Company |
| 11. Food | Provided by the company |
©2016 Bhatia Employment Bureau. All Rights Reserved